At the international level, there is growing interest in measuring intangible capital, which is justified by the fact that economies are becoming increasingly intangible.
At the national level, His Majesty King Mohammed VI requested during the Throne Speech of 30 July 2014, that an overall assessment of Morocco's achievements over the past fifteen years be conducted using the concept of intangible capital. Through this Royal Initiative, Morocco is one of the first countries that have made the voluntary and deliberate choice to conduct an assessment of their global and intangible wealth and to develop new tools to monitor public policies.
Intangible capital is indeed an innovative concept. The concept is complex and not easy to identify, because of its multidimensional scope and the difficulty of measuring it, using data from traditional accounting systems. It was first introduced in business and then at the country level, thanks to the reports prepared by the World Bank and OECD.
The approach based on the concept of intangible capital has the merit of providing a coherent framework for evaluating public policies, and helps to understand the dynamics of national wealth creation, identify its internal and external drivers and optimize the process of designing and implementing reforms and public programmes. This approach also makes it possible to bring the internal and external dimensions of the country's strategic choices into harmony by making them complementary and interdependent.
Thanks to its competence in the analysis of emerging concepts, IRES got in touch with Goodwill-Management firm to undertake the evaluation of Morocco's global wealth and its intangible capital for the period 1998-2013, according to a collaborative approach, based on:
The World Bank's method which has been adjusted in order to take into account the specificities of the Kingdom.
The so-called method "Thésaurus-Bercy-Territoires", which is generally used to evaluate the intangible capital of companies and which has recently been implemented at the territorial level.
This evaluation was the subject of a preliminary report, carried out by Goodwill-Management and submitted to IRES at the end of December 2014. It was completed by IRES through a detailed analysis of the evolution of each of the components of global wealth and the formulation of public policy proposals, relating to the different dimensions of intangible capital.
The strategic report, prepared by IRES on intangible capital in May 2015, highlighted the most difficult obstacles to be addressed by the public authorities as a priority, in order to enable Morocco to improve the well-being of its citizens and to eventually reach the rank of emerging countries. The report also made proposals to integrate the concept of intangible capital in the design and implementation of public policies. To help popularize the concept of intangible capital, IRES held several meetings at the Institute's headquarters and facilitated conferences organized by national institutions around this theme.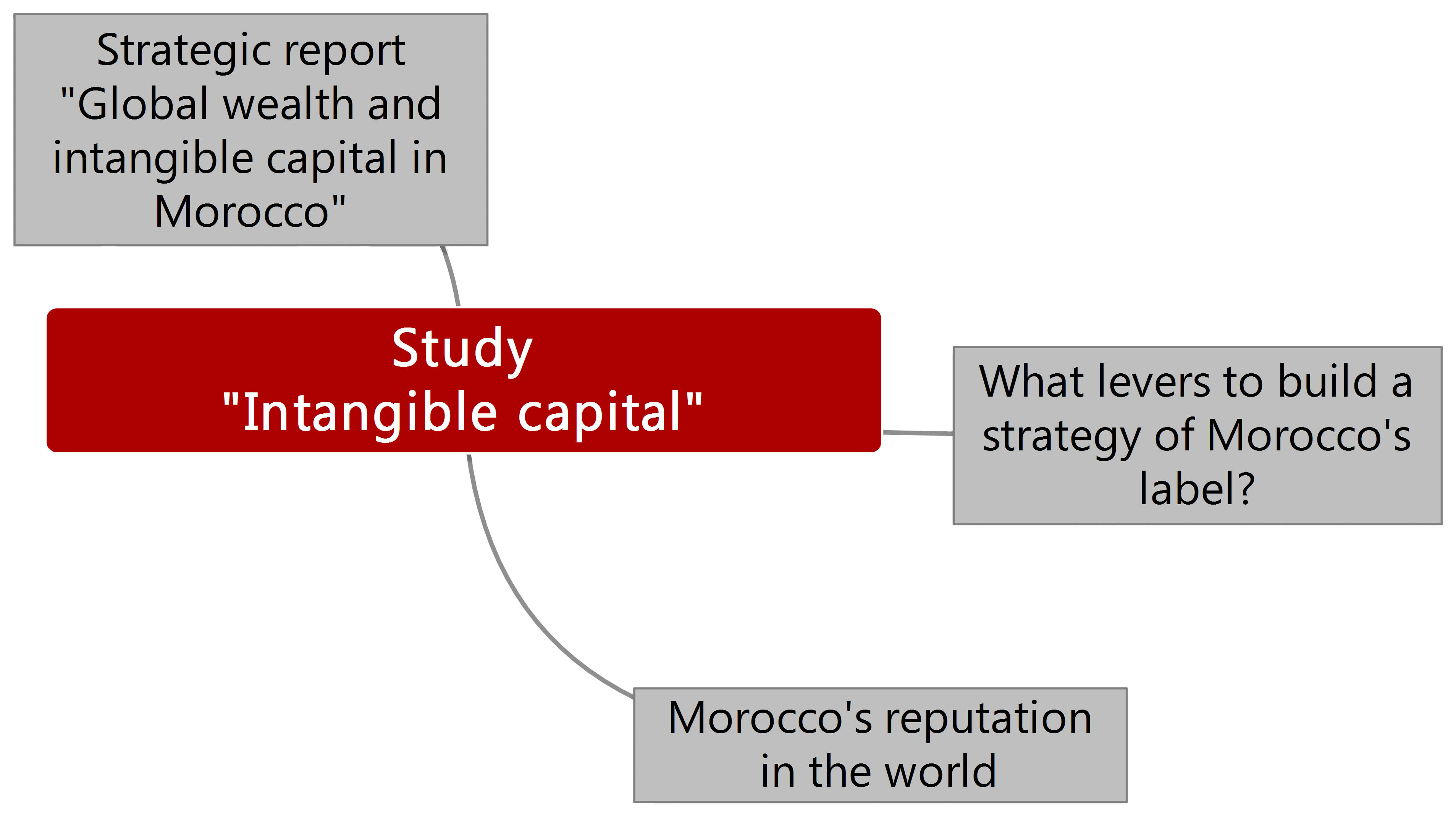 Publication :
---
Forum :