Presentation of Strategic Watch
Strategic watch is the detection of weak signals and roots for change and heavy transformations. It represents a competitive advantage for institutions that practice it.
Strategic Watch is one of the IRES' two essential missions. It is especially concerned with collecting and processing information and data made public in the political, economic and social fields, whether nationally or internationally and this, in order to provide relevant and reliable information essential for decision making.
The adopted approach in building a strategic watch system is based on :
A diagnosis of the situation and compounding factors for each system or sub- system constituting the areas of strategic watch (AWS), with the identification of relevant indicators
A strategic foresight approach to assess potential risks and opportunities that arise in the medium and long term.
An operational foresight approach aimed to identify possible and lasting solutions for structural problems arising immediately or in the long term.
Strategic watch at IRES evolved, during the first semester of 2015, towards a new type of watch, being: an advanced watch with is a systemic and dynamic watch.
Thus, the strategic watch areas have been revised to cover the Kingdom's external relations and global issues, in accordance with the Guidelines contained in the Royal Message of August 30, 2013, calling on the Institute to devote its efforts to Morocco's external relations and in the diplomatic field. IRES now has an advanced monitoring system, made up of around ten strategic areas, each comprising 3 areas.
The three-dimensional strategic intelligence areas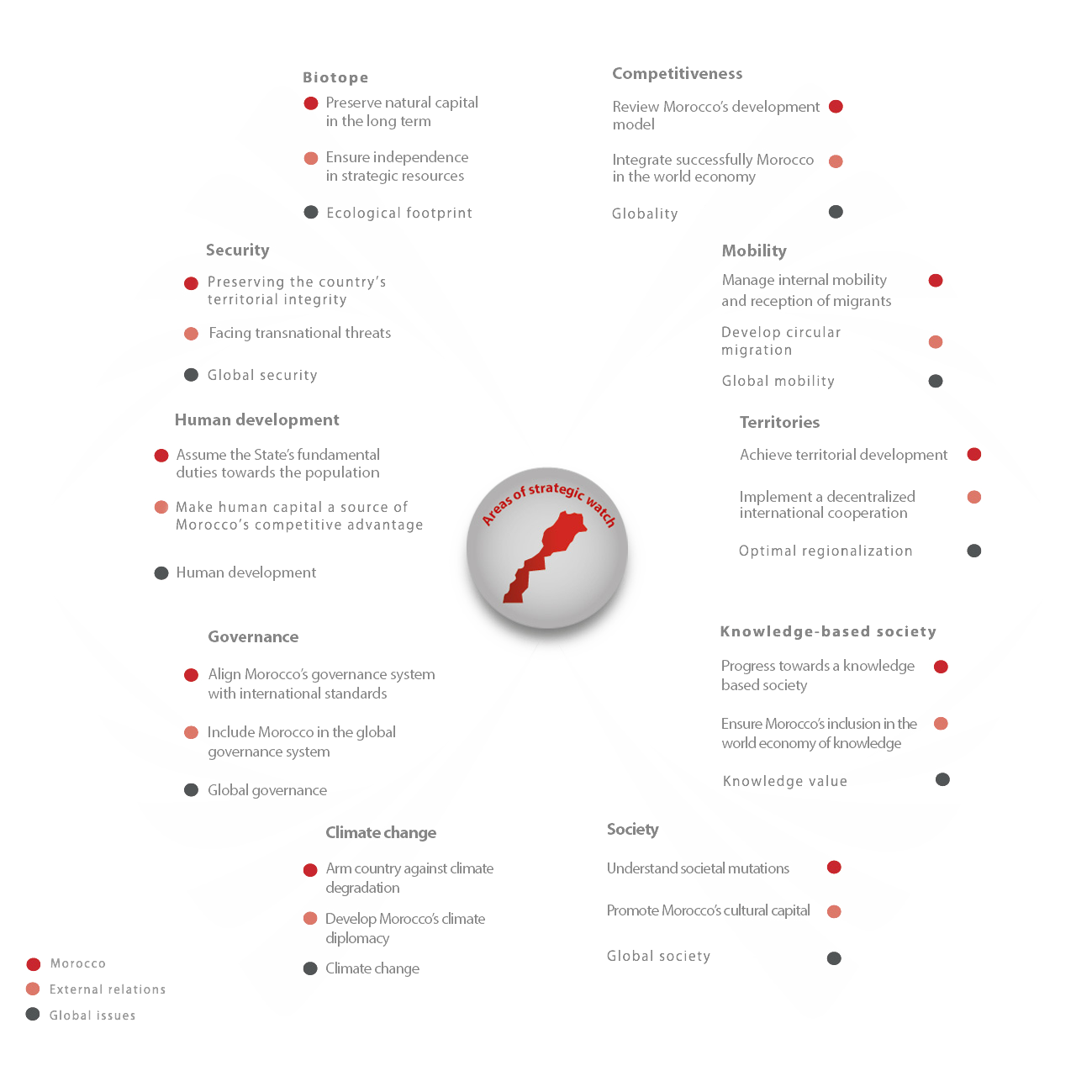 In addition, IRES set up, in 2016, the International Panel of Futurists (Panel International des Prospectivistes-PIP) , which has given a global dimension to the watch system and enabled the Institute to join the international community of futurists.